610 Yarborough St., Hendersonville, NC 28739
About us
Building on a Presbyterian Church(USA) presence in the Hendersonville community since our founding in 1852, we are a gathering of ordinary folks from 18 months old to a few nearing a century who share the grace of God, the love of Christ, and the fellowship of the Holy Spirit.
In our 165th year of ministry we continue to seek justice, love kindness and walk humbly with God and one another. We are an intimate faith community seeking to grow inward spiritually and outward in our missional impact in the community and the world.
Church governance
The Session is the governing body of any Presbyterian USA church. It is composed of the pastor of the church and elected "ruling" elders. The pastor generally serves as the "moderator" – or the head – of the Session. The Session has many duties, including providing for worship, receiving new members, managing finances, leading the congregation in the church's missions and guiding the fellowship and life of the church.
Current members of First Presbyterian's Session
Claudia Lampley, Clerk of Session
Sally Massagee, Treasurer
Class of 2019:
Claudia Lampley
Elizabeth Moss
Don Henderson
Ruling Elders: Class of 2020:
Wendy Henderson
Lynn Marks
Lauren Lampley Stanfield
Class of 2021:
Buddy Massagee
Lucy Massagee
The Session of First Presbyterian Church of Hendersonville, PCUSA has its regular meetings at 11:15 the first Sunday of the month.
Worship Times

Sunday School: 9 a.m.

Sunday Worship: 10 a.m.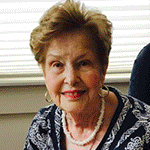 First Presbyterian Church of Hendersonville
a member of the Presbyterian Church (USA)
610 Yarborough St.
Hendersonville, NC 28739